Introduction
Climate change poses serious threats to economies and industries. Physical climate risks such as extreme weather (e.g. storms, floods and droughts) can cause infrastructure damage, disruption to trade and supply chains and lost productivity (e.g. agricultural production). In addition to the impact on economic activities, there are environmental and social costs of emissions that the public pays for, such as health care costs from heat waves and droughts, and loss of property from flooding and sea level rise. In fact, the increase in greenhouse gases (GHGs) concentrations as a result of human activities is identified as the main driver of the observed increase in global average temperatures since the mid-20th century. As projected, global warming would exceed 2°C in the 21st century unless Carbon Dioxide (CO2) and other GHG emissions are brought under control in the coming decades. It is pertinent to ensure that the rise in global average temperature is kept to well below 2˚C above pre-industrial levels circa 1850 – 1900 as this is the threshold when the implications of global warming become serious. Hence, deep emission reductions are needed.
Leaders in many countries, including those most vulnerable to climate change impact and the world's biggest carbon emitters, have already set ambitious targets for minimising GHG emissions. Notably, while striving to minimize GHG emissions, Malaysia is both vulnerable to climate change impact and is a large CO2 emitter. In 2021, Malaysia was found to be the fourth largest CO2 emitter in the ASEAN region, with a total of 256 million tons of CO2 released in 2020 (Figure 1). Additionally, Malaysia is one of the most vulnerable economies in the region to the potential impact of climate change (Figure 2). These indicate a dire need for Malaysia to significantly decarbonise its economy.
Figure 1: CO2 emissions among ASEAN countries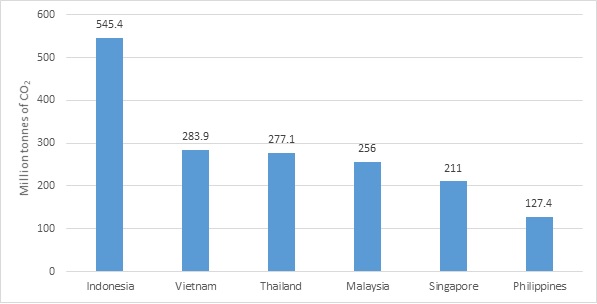 Figure 2: Climate Economics Index: mid-of-century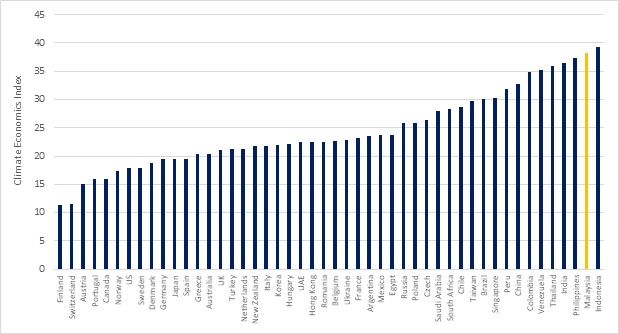 Opportunities in Transiting to a Low-Carbon Economy
In combating climate change, Malaysia is committed to reduce its carbon intensity (against GDP) by 45% in 2030 compared to the 2005 level. Moreover, the country planned to become a carbon-neutral nation and achieve net-zero carbon emissions by 2050. Achieving these goals require transitioning to a low-carbon economy and mitigating the worst impacts of climate change. However, there are significant challenges to such transition given the enormous capital needed to transform Malaysia's fossil fuel-dependent economy. It is estimated that 94.6% of Malaysia's energy is derived from fossil fuel. Therefore, the main challenge is transforming existing energy system to one that is cleaner, smarter, more efficient, and reflective of the environmental costs of GHGs. For this purpose, the application of clean energy technologies is needed which might come with some cost disadvantages relative to fossil fuels in the short- to medium- term.
However, the transition to low-carbon economy can also present new business opportunities to increase the range of products for renewable energy, green technology, green buildings, biotechnology and climate-smart agriculture. Malaysia's economy can benefit from it through technological innovation, sustainable investment, new export markets for climate-friendly goods and services (e.g. renewable energy facilities), and a dynamic private sector. Furthermore, the transition to a low-carbon economy is expected to lead to a creation of jobs in a range of existing sectors including manufacturing, construction and agriculture, as well as in new and emerging sectors such as renewable energy and energy efficiency.
There are also opportunities for more regional and international collaborations. Multilateral energy cooperation and regional networks can create an enabling environment for proper energy policies at the national level. For instance, regional energy policy cooperation among ASEAN countries provides technical assistance and monitoring around implementation of energy efficiency directives, embeds in energy policy decisions, and provides a platform to share knowledge on low-carbon technologies and investment opportunities.
Moreover, the transition to a greener economy can be done in a way that creates value and preserves competition in the marketplace. Carbon pricing, one of the important instruments of the climate policy package, can be an effective economic solution. This is an instrument that captures the external costs of GHG emissions and links them to their sources by a price. In other words, carbon price provides an economic signal to polluting businesses. They can decide to either transform their activities and turn to lower-carbon alternatives, or continue emitting and paying for their emissions. The main environmental goal is therefore achieved in the most effective, flexible, and low-cost way to society. Putting an adequate price on GHG emissions internalizes societal costs of emissions in businesses' economic decision-making process and perhaps incentivizes clean energy development.
Malaysia plans to assign a price on carbon in the form of carbon tax or emission trading system (ETS). These schemes are key policy instruments in climate change mitigation. Although the development of carbon pricing policies and framework in Malaysia is in its early stages, and participation is voluntary, it provides a platform for Malaysian companies to minimise carbon emissions and stay competitive, especially in the global trade markets.
Carbon pricing, in most cases, can also be a source of revenue for the government, which can be used to enhance green spending, as well as compensate adversely affected businesses and communities. The carbon tax revenues can be used to decrease labour charges and increase job creation, which would in turn protect employment levels. This revenue can be redistributed to low-income households in order to protect their purchasing power against price increases. These are key measures to ensure the acceptability of climate action and a national price on carbon.
Though transiting to clean energy is gaining momentum, fossil fuels are not going away any time soon. Notably, based on Malaysia's energy transition plan (2021-2040), no new coal plants will be built and there will be early retirement for existing capacity. However, the increasing global supply of renewable energy is still lower than the rise in overall global energy demand. Despite owning the 14th largest gas reserve and 27th biggest proven crude oil reserve in the world, Malaysia is continuously coping with high domestic and international demands which make the nation vulnerable to energy security issues.
How Companies can Benefit from Carbon Pricing?
Carbon pricing would help establish a market signal that will prompt companies to factor GHG emission costs into their operating and investment decisions. This would in turn help level the costs of the generally pricier low-carbon and green technologies, as well as provide better incentive for capital to flow towards innovation and scale-up. Pricing in fact functions as a risk mitigation tool that prepares companies both for climate-related physical risks, including resource availability and supply chain disruptions, as well as for risks associated with the transition to a low-carbon economy such as policy and market. Thus, such mechanism is long-run positive as it would push companies to use cleaner energy, develop automation and enhance efficiency, which would therefore support margins in the long-term.
Moreover, carbon pricing makes companies' sustainability efforts more visible. This mechanism would expand their products to a broader market, including Environmental, Social, and Governance (ESG)-conscious clients that would not consider emissions-heavy products.
Additionally, carbon price can inform long-term investors how a company is managing the transition from high-carbon to low-carbon activities. By applying carbon pricing, investors would be able to assess the potential impact of climate change policies on their investment portfolios, which would help them review investment strategies and reallocate capital toward low-carbon activities and perhaps zero-carbon technologies. This means that carbon pricing can shift investment to low-carbon options, innovations, and search for new market opportunities that can enhance a company's competitiveness.
Way Forward
Malaysia is still at an early stage of a transition from a high-carbon economy to a low-carbon economy. Scaling up GHG emission reductions and reducing the cost of mitigation are important in achieving the goal of decarbonising the economy. Although carbon pricing schemes are essential for decarbonisation, they may not be enough to achieve this transition and should therefore be accompanied by complementary public policies. Government policies play a significant role in encouraging innovations for break-through technologies. In addition, public-private partnership is essential, especially when it comes to funding and coordinating research and development. Public involvements are also crucial, especially to transform existing infrastructure such as electricity and transportation system.