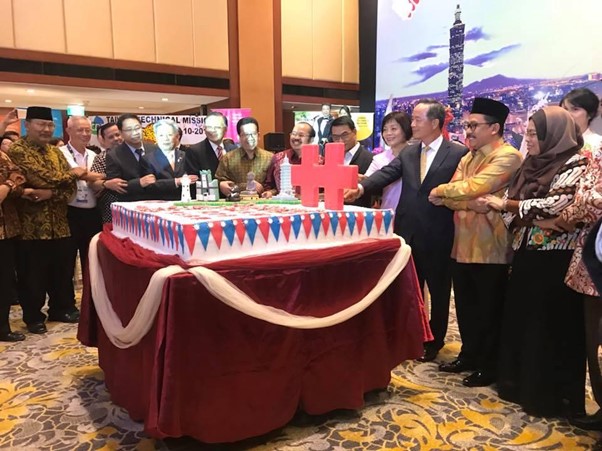 Introduction
On Indonesia's latest Independence Day celebration (17 August 2023), Ambassador Lu Kang of China congratulated the country and emphasized the growing eco nomic ties between Indonesia and China, especially in trade and investment flows.
This claim is pegged up by facts. Last year, Indonesia recorded a trade surplus with China, reaching US$31.3 billion. On the other hand, with the massive aid and pouring of a billion dollars, China is Indonesia's second-biggest investor, behind Singapore. One of China's initiatives is the Jakarta-Bandung High-Speed Railway (KCJB), a mega project of the Belt and Road Initiative (BRI) for Indonesia – which was officially launched by the Indonesian government on 1 October this year.
Despite the solid ties, both countries have faced many challenges in the course of their bilateral relations. These range from the unresolved contestation over the South China Sea, conflicts between Indonesian and Chinese workers in several sectors and the narrative of a debt trap, whether it is right or not.
It is noteworthy that the bilateral relations remain strong and growing despite some presence of anti-China sentiment in Indonesia, which has been fueled by some events in the past. These include the 1965 coup d'etat attempt, the entry of large number of Chinese workers into Indonesia during the pandemic and the ongoing persecution against Muslim Uyghurs by the Chinese government. The recent Rempang incident was particularly notable, as Xinyi Group of China wishes to invest in and develop a glass factory there, but only at the cost of the local residents.
China has struggled to address its economic performance in the past few years, even as pundits argue that China may have lost its economic miracle, which affects its economic ties with Indonesia. Desmond Lachman argues that China's economy depends on the property sector (which represents 30% of its economy) and household wealth (at nearly 70%). Roughly, those sectors have collapsed since the pandemic, such as displayed by the defaulting of Evergrande, one of the wealthiest real-estate companies in China. In the long term, China's economy also has faced very poor demography, ranging from the shrinking labor force to the increasing aging population.
As the dark cloud gathers, it becomes increasingly important for Indonesia to diversify its economic partners beyond just focusing on China.
Taiwan is a good option. Taiwan's gross domestic product grew by almost twofold from 2019-2021, though there has been pessimism over its economic performance this year. Taiwan is also a player in the critical technology sector that will play a major part in the future. One of the Taiwanese industries is Taiwan Semiconductor Manufacturing Company (TSMC), which could contribute 15% to Taiwan's GDP and ranked 8th as the most valuable venture in the world.
Besides, an engagement with Taiwan may be less likely to attract negative attention from the public, which may be influenced by the existing anti-China sentiment. This is because Taiwan is decoupled from China's ambition over the South China Sea, the mistreatment of Muslim Uyghurs and the assumption that Chinese workers are taking over jobs in Indonesia.
Taiwan over China?
Although Indonesia does not recognise Taiwan as a country due to the One China Policy, both countries have seen significant growth in trade. In 2020, for example, the trade value reached US$4 billion, climbing to US$8 billion in 2022.
It was followed by Taiwan's exports. In 2021, imports of Taiwanese products reached US$4,350 million, a 17.89% increase from the previous year. In addition, Taiwan contributed 2.66% of the total exports to Indonesia and ranked 9th as Indonesia's top exporter, with a value at US$484 million in 2022. Taiwan's exporting products were supplied by telecommunication equipment, thermionic tubes, cold cathodes, photo cats, embroidered or knitted materials and others.
Investment figures have increased as well. In 2021, Taiwan recorded an investment worth US$316.9 million, an increase from US$149.1 million in 2016.
This expansion of investment volume has been facilitated by the combined force of the Go South policy (introduced in the early 1990s) and President Tsai Ing-wen's New Southbound Policy (NSP), which targets engagement with Southeast Asian countries, especially Indonesia. Through this positive trend, the Taiwanese government also firmly committed that Taiwan will restore its ties with Indonesia, whereby in 20 years ago, Taiwan was the second largest investor in Indonesia.
To update their relations and communication intensively, both countries have agreed to organise some events. These include the Indonesia Investment Business Opportunities Seminar held in Taipei, Taiwan's participation in Trade Expo Indonesia, Indonesia's coffee promotion at the Taipei International Coffee Show and tourism promotion at the Tainan Tourism Table Top Business Meeting, as well as Indonesia's promotion of its halal industry and participation at the Taiwan Culinary Exhibition.
Recently, some of Taiwanese companies have also relocated to Indonesia. In 2020, Meiloon, a Taiwanese audio system manufacturer, officially relocated to Subang, West Java, from Suzhou in China. As reported by the Investment Coordinating Board (BKPM), Meiloon is one of the seven companies that have pledged to relocate to the country. Meiloon pledged to invest US$90 million and unveiled a job field for more than 8,000 workers.
Some food companies, such as Ecoffee, have also expanded to Indonesia. It has been argued that the demand for food products has declined in Taiwan due to a similar decline in the number of young populations. Indonesia, with its large group of youths, is naturally seen as an attractive customer.
Another example is Hon Chuan (THC), a plastic packaging firm, which opened two more sites in Indonesia in the past few years, one in Manado (2019) and another in Cibitung (2020).
Taiwan's High Tech: Helping Indonesia More Green?
Taiwanese technological companies have also expanded to Indonesia. This step seems to be taking advantage of Indonesia's plan to adopt a greener economy and develop its technology industry.
Foxconn Technology Group, the world's largest electronic components maker, is collaborating with Gogoro, a Taiwanese company, to develop two-wheeled electric scooters. In June 2022, Foxconn was estimated to bring US$8 billion worth of investment to the Batang Integrated Industrial Area. The company also signed a memorandum of understanding (MoU) with Indonesia Battery Corporation (IBC), Indika Energy and Gogoro to develop the electric vehicles ecosystem.
On modern technologies, TenMax, a Taiwan-based artificial intelligence firm, announced to open of its office in Indonesia. By having over 50 Al engineers, TenMax is expected to solve reinforce the business operations of Gojek, an Indonesian unicorn.
Additionally, Taiwanese health company, Imedtac, planned to assist by cooperating with local partners to advance and integrate medical devices. It aimed to combine Al and the Internet of Medical Things (IoMT), enabling patients' data to be accessible in real-time.
Conclusion
By seeing the Taiwanese venture's contribution, Indonesia must not depend on its economic policy on China. Nowadays, Taiwan is one of the world's leading producers of information and communication technology products. In addition, the Taiwanese government strengthened the slogan "Make Taiwan Innovative, Inclusive and Sustainable," which would increase its move to advancing its technology.
Therefore, Indonesia could increase its intention to Taiwan as one of its strategies in developing every aspect, instead of China.