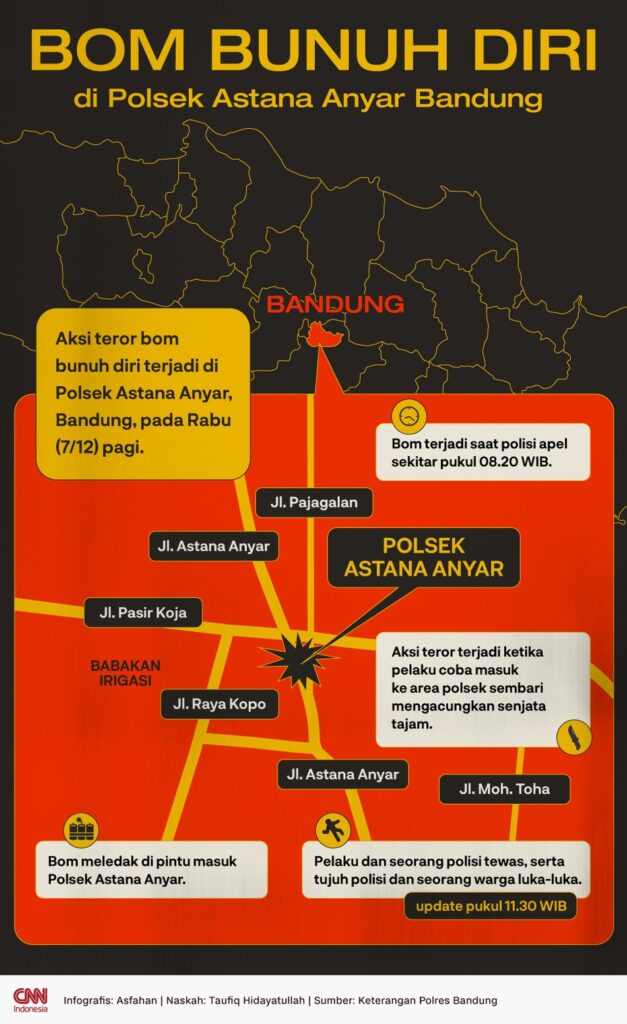 Introduction
On 7 December 2022, two blasts were registered at a police precinct on Jalan Astana Anyar, Bandung (Polsek Astana Anyar), West Java, killing the perpetrator and a police officer as well as injuring nine other officers.
Spot Report, News Coverage and Early Observations
On 7 December 2022, two blasts were registered at a police precinct on Jalan Astana Anyar, Bandung (Polsek Astana Anyar). The first, allegedly a suicide bombing, occurred at 8.20 Western Indonesia Time while the second one took place on 10.45.
As of 11.30, the blast reportedly killed the perpetrator and a police officer. The attack was carried out during morning assembly (apel pagi) by an individual brandishing a knife who attempted to get into the middle of the assembly.
The police believed that the perpetrator brought two explosives but only managed to detonate one. The second blast occurred several hours later as police tried to secure the area and media personnel gathered to cover the development. It was reported later that the second blast was triggered by the police for disposal purpose.
The police suspected the involvement of a religiously motivated violent extremist group in the blasts. The National Police's Head of Public Information Bureau Ahmad Ramadhan stated that the counter-terrorism unit has been engaged to investigate the incidents.
An officer of the Badan Nasional Penanggulangan Terorisme (BNPT) shared that Jama'ah Ansharut Daulah (JAD) may be behind the attack, as they have carried out similar attacks previously.
The police are investigating a blue motorbike alleged to be used by the perpetrator. The police also found a note rejecting the recently passed Revisi Kitab Undang-Undang Hukum Pidana (revised criminal code – KUHP), stating that it is a product of an infidel government. Ironically, some of the recently passed KUHP may have religious influences (e.g. outlawing premarital sex).
The attack is arguably Indonesia's most serious terrorist incident by religiously motivated violent extremists in an otherwise peaceful year. A recent notable case before this was the arrest of a female youth attempting to stage a shooting at Istana Negara.
This attack also occurred when national perception towards police is on decline, following multiple incidents and blunders that tarnish the reputation of the force this year.
The Perpetrator
The suicide bomber was Agus Sujatno alias Abu Muslim, a former member of Indonesian Islamic State (NII) and a former treasurer of Jama'ah Ansharut Daulah (JAD) in South Bandung and former Pasir Putih Prison terrorist inmate. This differs from initial reports and chatters pointing to another suspect. Prior to this attack, Agus had been involved in the failed suicide attack in Cicendo, Bandung, that took place on 27 February 2017. He was the bomb maker of that incident.
Agus joined the West Java chapter of JAD in 2015. He learnt about the Islamic State (IS) and "jihad" at a Ponpes Ansorullah, a JAD school in Ciamis, West Java. He studied under the tutelage of West Java JAD leader, the late Fauzan Al Anshori. During his time there, he became acquainted with other JAD members from Jakarta, Indramayu, Solo, and Maluku, such as Iman Namakule.
Simultaneously, he visited JAD leaders imprisoned on Nusa Kambangan Island with Fauzan and other students from the school. He had met with figures such as Abu Bakar Ba'asyir and Aman Abdurrahman from his visits in February and March 2015, respectively.
Upon conclusion of his studies, he returned to Bandung a month after and joined the JAD chapter there.
In the last three months of 2015, Agus attended regular gatherings held by his JAD unit in Yayat Cahdiyat's house in Ciwidey district on Sundays. But such meetings ended in January 2016 due to the arrest of their cell member, Fakhri Rizqi Rafsanjani alias Usaid. Usaid was arrested on 10 January 2016 for his involvement in the attack of a TV One van in Bandung on New Year's Eve.
Agus also took part in his JAD unit's idad ("jihad" preparation) activities held at Al Ma'soem school in Jatinangor. These activities included physical fitness training and swimming.
From early 2016 onwards, Agus also attended large-scale gatherings held once a month by Bandung JAD in Cisarua. These gatherings were led by Syamsul Hadi and Khoirul Anam, the last of which is a leader of a JAD school in Subang.
Agus also trained in martial arts conducted by Bandung JAD in Cimahi.
He started learning bomb-making techniques from online sources in January 2017. He downloaded bomb-making manuals from a Telegram messenger channel ran by the late Bahrun Naim, an Indonesian IS fighter killed in Syria on 19 April 2018. He did that as per order from Yayat Cahdiyat, his fellow JAD cell member and the perpetrator of the aforementioned failed Cicendo suicide attack.
Yayat convinced Agus that they should bomb the West Java provincial police headquarters in Bandung and police office in Cianjur, West Java. These attacks were to avenge the deaths of two Bandung JAD members, Abu Sofi and Abu Faiz. These two were killed in a raid on Jatiluhur dam in Purwakarta on 25 December 2016, where they had concocted a plan to attack police posts in Jakarta.
By late January 2017, Agus began building a bomb laboratory in a rented house in Kebon Gedang, Batununggal. It was in this rented house where he had made his explosives. On 20 February 2017, Agus and Yayat visited Sholeh Abdurrahman alias Abu Fursan in his house whereby Yayat told him that he would conduct a suicide attack on police mobile brigade headquarters in Depok, West Java and requested money to buy a pressure cooker. Sholeh agreed to help.
On 24 February 2017, Yayat and Agus made one pressure cooker and two pipe bombs. When the bombs were ready, Yayat took the pressure cooker bomb with himself while Agus kept the pipe bombs. The same pressure cooker bomb was used in the Cicendo bombing on 27 February 2017, where Yayat was killed.
Police arrested Agus on 7 March 2017 on Cancer Street, Turangga, Bandung for his involvement in the failed attack. On 20 December 2017, the East Jakarta District court sentenced him to four years of imprisonment which he spent in Pasir Putih Prison, Nusa Kambangan Island. While in prison, Agus refused to take part in the deradicalization programs run by Detachment 88 and BNPT. Thus, it is suspected that he still held firmly to his pro- IS ideology when he was released on 14 March 2021.
Upon his released, he joined pro-IS militants and unrehabilitated former terrorist inmates in Solo, Central Java, including Yus Karman and Ibadurrahman. Yus Karman and Ibadurrahman aremanagers of Anfiqu Centre (a pro-IS charity) and Hamalatul Quran (a pro-IS school). There, he worked as a parking attendant and bolstered his pro-IS stance. Following that, he returned to Bandung to prepare his attack on the Astana Anyar Police Precinct.
Agus Personal Life
Agus' father is Wahid (deceased) and his mother is Sa'adah, a housewife. Agus was the first of two children in his family. His younger sister is Derawati Ningsih, a worker at a garment factory in Bandung.
He was married to Fitri Sania but later divorced her. Fitri is currently married to Sholeh Abdurrahman and lives with Sholeh's parents in Bandung. Agus has a son with Fitri, called Abdulloh Usama who currently lives with Sholeh's parents too.
Agus' educational background is as follows:
a. Graduated from SDN Gumuruh 4 in 2001;
b. Graduated from SMPN 20 Bandung in 2004;
c. Graduated from STM Taman Siswa in 2007; and
d. Enrolled as undergraduate student in Islamic Education at University of Islam Nusantara (UNINUS), but dropped out in the second semester.
Possible Reasons for the Attack
There are three possible reasons for the attack. First, Agus wanted to seek revenge on the police for killing Yayat Cahdiyat on 27 February 2017. Second, he wanted to demonstrate to the public that IS supporters in Indonesia still exist. Third, he wanted to encourage other IS supporters not to give up and continue to attack enemies of IS.
Way Forward
The suicide attack by Agus highlights the security impact and ongoing problem of recidivism. The Indonesian government needs to take steps to prevent similar attacks in the future. The police also needs to identify former inmates with bomb-making skills and monitor their movements. Significant effort must be taken to prevent them from regrouping with their old networks.
Second, the Indonesian government is strongly encouraged to revise the Anti-Terrorism Law Number 5/2018 to include an article stipulating that perpetrators of terrorist crimes are to be imprisoned until they are rehabilitated. This article should also oblige terrorist inmates and their families to take part in the government's deradicalization program.
Third, this attack highlights the continued perception of Indonesian security agencies as enemies of religiously motivated violent extremists. Notably, this is one of numerous attacks or attempted attacks on police officers and their premises since 2010. This attack is testament for the need for improved security for police officers and infrastructure. However, such improvements could be hindered by a negative national perception towards them.