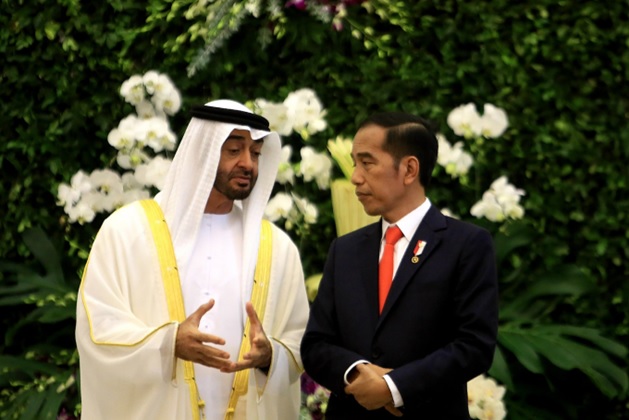 Introduction
The Indonesia-United Arab Emirates Comprehensive Economic Partnership Agreement (IUAE-CEPA) was officially signed on 1 July 2022 in Abu Dhabi, nine months after its launch by the trade ministers of both countries. It was marked by the signing of the Joint Ministerial Statement on the Launching of Negotiation for IUAE-CEPA.
The negotiations, which had been carried out since the beginning of 2 September 2021, were completed within one year, or before the conclusion of Expo Dubai in March 2022. Indonesia's Minister of Trade Zulkifli Hasan stated that the IUAE-CEPA collaboration would be able to increase investment into Indonesia and accelerate Indonesia's trade performance after the Covid-19 pandemic.
This signing is Indonesia' first trade agreement with a Gulf country and expected to open doors to enhance export to the region, Africa as well as South Asia.
President Joko "Jokowi" Widodo welcomed the launch of the IUAE-CEPA, conveying his pleasure to the Minister of State for Foreign Affairs of the Union of Arab Emirates Thani bin Ahmed Al Zeyoudi, who was on a courtesy visit to the Merdeka Palace.
Some important points of the agreement include trade in goods and services, intellectual property rights, investment, Islamic economy, customs procedures and trade facilities, provisions on the origin of goods, procurement of government goods and services, small and medium enterprises, digital trade, and legal provisions and institutional issues.
Indonesia-UAE Economic Relations
The United Arab Emirates (UAE) is one of the Gulf countries that has a sizable economic relationship with Indonesia, even before the signing of this momentous agreement. The total trade volume between Indonesia and the UAE recorded a 37.8% increase in 2021 after a pandemic-induced deficit, reaching US$ 4 billion. This is the highest figure achieved within a period of seven years.
Indonesia's export to the UAE in 2021 grew by 52.15% to US$1.89 billion from a year before. Import from the UAE also increased by 27.33% to US$2.14 billion.
Meanwhile, in 2021, the UAE committed US$44.6 billion (the equivalent of Rp636.88 trillion) in investment, which was planned to be realized in 2022-2024. Commitment worth US$26.6 billion will be managed by the Badan Koordinasi Penanaman Modal (Investment Coordinating Board – BKPM) and the remaining US$18 billion by the Indonesia Investment Authority (INA).
From this US$26.6 billion, around US$15 billion of which was an investment by Air Products and Chemicals Inc. (APCI) in PT. Pertamina (Persero), PT. Bukit Asam (Persero) Tbk, and the private sector. This was aimed at developing a downstream industry in the form of coal gasification, intended to convert fossil energy commodities into more high-value materials such as methanol and dimethyl ether (DME) that could facilitate economic transformation.
Apart from that, the UAE is also committed to investing in Indonesia's port sector Belawan New Container Terminal (BNCT) through the cooperation of Dubai Port (DP) World and PT. Pelabuhan Indonesia Persero (Pelindo). The investment is valued at US$ 7.5 billion.
Furthermore, at the recent G20 Summit, energy companies Masdar and the Abu Dhabi National Oil Company (ADNOC) agreed to collaborate with PT. Pertamina (Persero) to develop a Solar Power Plant in the Rokan Block. The project would start on 12 November 2024 and is projected to last for two years.
The positive trends in bilateral trade and investment seem to signal stronger economic ties between Indonesia and the UAE, of which the IUAE-CEPA is merely a manifestation of it.
Benefits of IUAE-CEPA Cooperation
Director General of International Trade Negotiations Bris Witjaksono stated that the IUAE-CEPA agreement will be able to open market access and wider opportunities to the UAE by reducing and eliminating import duty rates of around 94% of the total tariff items.
This comprehensive agreement can also have a beneficial impact on the Unite Arab Emirates itself. We can see how reducing trade barriers, by reducing trade tariffs on various goods and services, would have a positive impact on the value of bilateral trade between the two countries, which is projected to amount to US$10 billion in 2030. The UAE will enjoy a trade surplus with exports to Indonesia of around US$2.1 billion and imports worth US$1.9 billion. Through this agreement, more than 80% of UAE exports will have duty-free access to Indonesia. UAE will also have access to import Indonesian palm oil, food products, fashion and other commodities. Minister of Foreign Trade Thani Al Zeyoudi also said the IUAE-CEPA agreement will create 55,000 job opportunities in the UAE, improve access to markets in Asia and encourage foreign direct investment.
It is hoped the IUA-CEPA would also spur more investment opportunities to Indonesia beyond those identified above, creating new opportunities in important sectors such as energy, construction, advanced technology, Islamic finance, digital economy, environmental conservation and tourism. This agreement is also an opportunity for the UAE to be able to deepen relationship and become a bridge of communication with other Asian countries.
Apart from trade and investment, the IUAE-CEPA will also be very beneficial for the tourism sector for both countries. Abu Dhabi itself is already very popular among Indonesian travelers, who can now travel to the capital after the UAE reopened its border to foreign tourists.
On the other hand, Indonesia is also intensively promoting the tourism sector for recovery after the Covid-19 pandemic. For example, Indonesia participated in the Arabian Travel Market in May 2022 to attract Middle Eastern tourists. The UAE is one of the largest contributors of tourists to Indonesia and, with Indonesia's recovering tourism sector, we can expect this trend to continue upward. Minister of Tourism and Creative Economy of Indonesia Sandiaga Uno has stated his hope that the tourism industry could generate potential foreign exchange of more than US$15 billion or around Rp220 billion.
A Natural Outcome
IUAE-CEPA can be seen as the natural outcome of two different things: an intensified diplomacy between the two countries recently and the close friendship between President Jokowi and Sheikh Mohamed bin Zayed Al Nahyan (MBZ), the President of the UAE.
Each president has named a street or a highway after the other in his respective country (President Joko Widodo Street in Abu Dhabi and Sheikh Mohamed Bin Zayed Elevated Toll Road in Jakarta).
MBZ has also built a mosque worth Rp300 billion in Jokowi's hometown of Solo, which is considered a manifestation of not only this friendship, but also the UAE's soft power projection.
This close friendship is far more intimate compared to Jokowi's relationship with other Gulf countries, not to mention the fact that the UAE is Jokowi's most frequent destination visit in any Gulf country. Barring any unpredictable events, we can safely project that the relationship between the two countries would continue to develop in various sectors, be it economic, social or cultural. With Jokowi nearing the end of his presidential term, however, it would be interesting to see how the UAE would further cement their influence in Indonesia, regardless of who presides over Indonesia's top office.
This might not be an uphill struggle for the UAE, however. Indonesians' perception of a Gulf country like the UAE is far more positive than their perception towards China. The role of Islam certainly plays a role as well, with the UAE's Wasathiyah Islam being seen as compatible to Indonesia's multiethnic and multireligious setting. This is on top of the fact that both are Muslim-majority countries. The UAE and the Arab world are increasingly seen as alternative partners for Indonesia's strategic interests, beyond its traditional partners the United States and China. We might get to see similar agreements as IUAE-CEPA between Indonesia and other Arab countries, sooner or later.