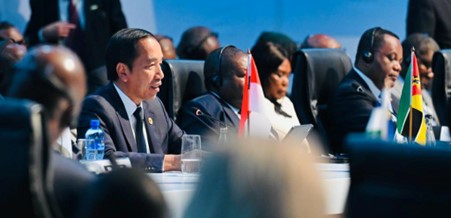 Introduction
On 24 August 2023, President Joko "Jokowi" Widodo attended the 15th Brazil, Russia, India, China, and South Africa (BRICS) Summit in South Africa, alongside leaders and representatives from other countries.
Jokowi's presence once again fueled rumor of the possibility of Indonesia to join the BRICS grouping, at a time when six other countries including Saudi Arabia and Argentina received a similar offer to join.
Despite prior rumors that Indonesia will join BRICS' fold, it has not committed to do so, unlike the six countries that will formally join the group on 1 January 2024. Jokowi stated that Indonesia will "conduct a thorough study and calculation" before making a formal declaration of interest. Additionally, Indonesian officials have previously stated that Jokowi's attendance should not be mistaken as a confirmation of membership.
Indonesia's hesitation could partly be explained by the lack of urgency for Indonesia to join BRICS, as alluded in Jokowi's speech.
Internal Struggle and Problematic Members
Latest international dynamics such as the tension between the United States and China as well as the invasion of Ukraine by Russia have prompted BRICS to adopt different views from the G7 countries, especially on economic issues.
They probably have the right to be different: BRICS member states are essentially giant economies in their respective as well as global contexts. As such, Indonesia – an economic powerhouse in its own right – has probably earned its own place in the group. There is also an argument that Indonesia's alignment with BRICS member states could confer greater economic utility through increased trade relations and investment.
However, such are not sufficient enough factors for Indonesia to accede to BRICS. For one, two of its members, namely China and Rusia, are interlocked in the world's greatest ongoing flashpoints at the moment. Besides, member states' major economic problems have casted doubt whether the grouping has the capacity at all to respond to global economic challenges.
As such, there is a perception that BRICS as a whole may appear unstable or fragile. This is further reinforced by internal tension or issues faced by the members themselves.
For example, the recent release of China's new national map – that claims most of South China Sea and parts of India and Russia – has triggered a negative response from India. India has had border disputes with China since 2020, particularly over territories that include parts of Arunachal Pradesh, the Eastern Himalayas and the Doklam Plateau.
BRICS' upcoming new members may also add to this complication. Iran, with its nuclear program, could potentially embroil BRICS in the nuclear and geopolitical tension with the West.
On the other hand, Saudi Arabia have a history of human rights violations, raising concern that it could cast a negative light on BRICS as a whole.
These issues, coupled with the different economic approaches adopted by each member states, harmonization within the group could be difficult to achieve and will certainly affect the agendas of the organization.
No Urgency
Therefore, so far there has been no significant benefit and clear urgency for Indonesia to join the group. For Indonesia, being a member state to organizations such as Association of Southeast Asian Nations (ASEAN), G20 and Mexico, Indonesia, Republic of Korea, Turkey and Australia (MIKTA) has also accorded it more diverse economic opportunities.
Even if Indonesia is not joining BRICS now, it does not mean that it has not reaped any benefit from the whole dynamics. Jokowi's presence at the BRICS meeting was preceded by visits to four countries, namely Mozambique, Tanzania, South Africa and Kenya to increase trade and investment cooperation. The visit to Mozambique led to the signing of a Preferential Trade Agreement (PTA) between Indonesia and the country, Indonesia's first in the African continent.
Indonesia's participation at the BRICS also underlines how the country uses diplomatic fora like ASEAN and G20 to further Indonesia's policy and interest. Jokowi's speech highlighted some of these, including his discussion of suspected trade protectionism (such as the European Union's limitations on palm oil) and his support for local downstream industries, which was demonstrated by Indonesia's prohibition on nickel exports.
However, he did call for consistent observance of international law and human rights, and he made general allusions to the "spirit of Bandung" dating back to when Indonesia hosted the Bandung Conference in 1955. Predictably, he also avoided directly addressing more general geopolitical issues, such as the tension between the United States and China. Similar views can be found in his speeches at different fora, such as ASEAN and the G20 Summit last year.
The conflict between geopolitical and economic imperatives in Indonesia's foreign policy strategy under Jokowi was highlighted by its BRICS approach. In order to further his domestic-centric, economic-focused foreign policy vision, win support for a more equal, inclusive, and multipolar world, as well as shield Indonesia from geopolitical conflicts, Jokowi exploited international fora to articulate Indonesia's interest and position.
The geopolitical concerns, however, have also made it harder for Indonesia to calibrate its non-aligned foreign policy while advancing its economic interest. Despite being the third-biggest democracy, the largest Muslim-majority country and the fourth-most populated country in the world, Indonesia exhibits this tension.
Eggs in Other Baskets
Indonesia's calibration between its quest to join the league of more developed countries, all while building support among developing countries, will continue to be a theme to watch. For all the focus on the BRICS, the bigger picture is that Indonesia continues to do both concurrently, as part of Jokowi's vision to make Indonesia one of the top five economies in the world by 2045.
Foreign Minister Retno Marsudi also captured this in her remarks at the BRICS meeting in June, when she said that her message about economic injustice was the same one that Jokowi had delivered to the G7 meeting hosted by Japan in Hiroshima earlier this year. There, Jokowi had even suggested forming a new body of commodity exporters akin to the Organization of the Petroleum Exporting Countries (OPEC).
A case in point is Indonesia's bid to join the Organization for Economic Cooperation and Development (OECD), which has received less attention relative to the BRICS fanfare. OECD is considered as one avenue for Indonesia to achieve its economic ambition. In this case, joining OECD would compel Indonesia to improve its economic management standards that will affect its trade and investment with developed countries. This is also expected to be able to bring Indonesia out of the concern of the middle-income trap.
For OECD itself, Indonesia's potential accession will expand the organization's reach in the Southeast Asian region, where none of the countries is a member.
Indonesia has also been able to exercise leadership in other fora during Jokowi's tenure, including through a non-permanent seat on the 2019-2021 United Nations Security Council and as Chairman of the Indian Ocean Rim Association (IORA) in 2015-2017.
Conclusion
Whether Indonesia joins BRICS or not in the future will remain to be seen. The answer also lies in the foreign policy orientation of Jokowi's successor after the election next year. For now, however, there is no pragmatic reason for the country to join BRICS.