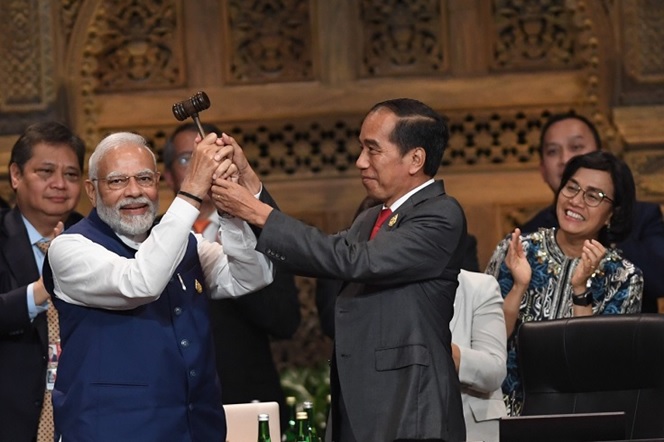 Introduction
Indonesia was a relatively successful host the Group of Twenty (G20) Summit amidst Russia's invasion of Ukraine, arguably the most challenging point event in global politics at the time being. With this landmine in the background, President Joko "Jokowi" Widodo had to carefully chart Indonesia's agenda and involve all G20 member states to agree on its objective of "recovery and reconstruction" in the post-pandemic era.
Indonesia tried to maintain a balanced approach in its interaction with the United States, Russia and Ukraine, especially as great power contestation threatened to derail the whole G20 process. As a host, Indonesia must ensure that the Summit could accommodate all interests from different political and economic blocs of the member states. President Jokowi went as far as stipulating that the G20 Summit should not be pulled into the realm of politics. He emphasized that the Summit should entirely focus on discussing how to resolve economic problems, not political contestation.
Despite this, it was implausible to dismiss the entire Russia-Ukraine conflict altogether. Indonesia managed to get all member countries to agree on the Bali Declaration of 2022 that fundamentally touches upon the issue of the global energy, food insecurity, global economic recovery and global health governance. While these issues are the core concerns of the Declaration, as the President of G20, Indonesia included the notion of "condemning Russian invasion to Ukraine" based on the UNGA Resolution No. ES-11.
India has taken over the presidency from Indonesia and will host the Summit and its related meetings this year. India has declared that it would shape the G20 agenda differently from what Indonesia did. While Indonesia tried to sidestep political matters, India seems dauntless in confronting the issues headfirst, advocating for a more peaceful and more united global order as shown in its slogan "One Earth, One Family, One Future". This is derived from the Sanskrit motto of vasudhaiva kutumbakam, which means "the Earth is one family".
It is imperative for India to make a strong case for multilateralism through G20 by asserting the effectiveness of multilateral fora to provide a response toward the world's most pressing challenges, which include a likely global recession and the ongoing war between Russia and Ukraine. This must also be complemented with efforts to build a democratic multilateral institution that would respond better to different scenarios of conflict and crisis.
Indonesia and India: Different Priorities
Since the early years of the Cold War, Indonesia and India have been vigorous supporters of the Non-Aligned Movement (NAM). Both nations argued they should not side with either the United States or the Soviet Union to ensure the sovereignty and independence of newly independent countries.
Following the end of the Cold War and the beginning of multipolar power competition, Indonesia and India have tried to redefine their foreign policy orientation. While Indonesia defines itself as a middle power which upholds the idea of dynamic equilibrium, India tries to increase its leverage by asserting a multi-alignment orientation in the context of Indo-Pacific political dynamics.
With this new orientation, Indonesia and India are seeking to expand their influence in world politics by taking different leadership roles, such as leadership in various regional fora. As Indonesia and India continue their efforts to reorient their respective foreign policies, they have had to deal with numerous challenges arising from both regional and global levels.
Acknowledging the need for a consensus at the G20 Summit, Indonesia tried to play down any potential clashes between differing blocks during the Summit's sessions. This is consistent with President Jokowi's leadership style, which focuses on attaining harmony and achieving common ground among all related parties. Such can seen in how Jokowi and his ministers approached leaders from different sides in the global power competition.
Such approach proved fruitful. Indonesia, with the support from the United States, successfully led member countries to agree on a global pandemic fund that was previously opposed by several countries.
Indonesia also faced some serious challenges in getting member states to agree on Just Energy Transition Program (JETP). JETP is a commitment by developed countries to assist developing countries in phasing out carbon usage. JETP was finally agreed on as a way to ensure an accelerated energy transition program.
Following Indonesia's success, Prime Minister Modi stated that the G20 could be utilized as a forum to promote "healing, harmony and hope" in the global politics through the paradigm of human-centric globalization. The Official Sherpa of G20 India Amitabh Kant added that India will share its successful story in realizing human-centric developments with other G20 member states.
Furthermore, India has announced that it will focus on bringing forward the agenda of Lifestyle of Environment (LiFE) that India introduced in COP26 that aims to ultimately change human behavior and tackle the negative impacts of climate change. Aside from LiFE, India will also advocate for aplethora of issues including: 1) a reform in multilateral governance; 2) an acceleration in Sustainable Development Goals (SDGs) achievements; 3) digital transformation in public and economic sectors; 4) an inclusive and resilient growth, and; 5) women-led development.
By carrying these agendas, India would be advancing the interests of the Global South. India may also be using G20 as a forum to bridge the interests of developed and developing countries.
Looking at these priorities, India's vision in its G20 presidency is clearly influenced by its effort to reorient its foreign policy vision from cautious non-alignment to proactive multi-alignment.
What India Can Do
India has a burden of proof to show that it can lead the G20 in better and more efficient ways than Indonesia. To achieve this, there are three things that India could consider throughout its G20 presidency.
Firstly, India could use its G20 presidency as a way to show to the world that a prestigious global event like the G20 could be inclusive for both its citizens and the global public alike. Modi has even called this edition of G-20 as People's G-20. Democratizing the G20 is essential to make the global forum resonate with the needs of India's citizens, considering agreements and decisions during its Summit would bear real-life impact on the daily lives of its people.
Comparably, the Indonesian government did the opposite, with instances of civic space being further constricted in the country just before the G20 Summit was held.
Fortunately, the Indian government has started off its presidency with an assurance of public participation by inviting all political parties, including the opposition parties, to deliberate and synchronise India's interests in its G20 agenda. The Indian Ministry of Foreign Affairs, as one of the primary stakeholders, has also opened itself for public engagement with various non-governmental organizations (NGOs), civil society organizations (CSOs) and university students.
Secondly, India should also utilize G20 as a platform for mainstreaming religious tolerance, moderation and the value of religion in answering global problems. In this aspect, India could continue Indonesia's agenda in Religious-20 (R20) which has agreed to build a common platform that will focus on bridging gaps and differences in the terms of interfaith understanding between different nations and civilizations. Even though R20 will be a sideline event in the entire G20 process, it is necessary for India to strengthen its credential as a "multicultural, multireligious nation" by ensuring that discussions within R20 would include all religious communities, especially minorities and disadvantaged religious communities, both in India and abroad.
India could build on this process by looking into ways to formulate a concrete framework to answer challenges in less developed countries such as Central Africa and Afghanistan, which have suffered tremendously from the combination of religious conflict and environmental crisis.
Thirdly, India should remain steadfast in its defence of effective multilateral mechanism, especially as a panacea to ongoing global tensions. Prime Minister Narendra Modi has been reminding the global community of the importance of "reformed multilateralism", an agenda that could take off if India were to promote it at multiple fora including the G20, South Asian Association for Regional Cooperation (SAARC), Bay of Bengal Initiative for Multi-Sectoral Technical and Economic Cooperation (BIMSTEC) and others. India should also carefully calculate its complicated engagement with Russia and China, so as to make sure that the ambiguity surrounding the relationship between India and Russia and between India and China will not complicate the dynamics of the upcoming G20 process. In summary, India's presidency could offer some light to solve problems that often affected people living in less developed countries. Whether India would prove itself as an advocate of developing and less developed countries will depend on how India's willingness to listen to and notice the interest of the most underrepresented voices in its domestic realm and abroad.