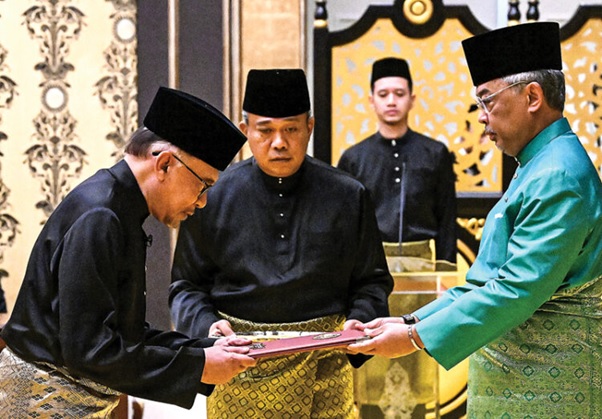 Introduction
Malaysia's 15th General Election (GE15), which was held on 19 May 2022, saw an unprecedented hung parliament with no single political coalition winning a simple majority to form the government. After five days of deadlock, the political impasse ended after meetings upon meetings between the coalitions and the King. On 24 November, the King finally swore in Anwar Ibrahim, leader of the Pakatan Harapan (the Alliance of Hope – PH) coalition as the 10th Prime Minister of Malaysia.
At present, the newly minted Prime Minister is taking the lead toward national reconciliation by forming a unity government comprising Barisan Nasional (the National Front – BN), its former political opponent, and Gabungan Rakyat Sabah (Sabah People's Alliance – GRS). He has also left the door open for other political parties to join his unity government.
Such a gesture is applaudable but it is also because PH does not have the number of seats to form a government, with only 82 seats to its name. Although a minority government is not impossible in a Westminster parliamentary system, it has never occurred in Malaysia. More importantly, the King has urged the various political coalitions to form a unity government.
A unity government would provide the PH coalition with a stronger mandate to stabilize and bring the nation forward. By any measure, this is a good start to restoring the political stability in the country. However, challenges facing the newly minted Prime Minister and the PH-led government are abundant and this short article will address only a few of these challenges.
The Cabinet
Anwar's immediate challenge is navigating the delicate balance of forming a cabinet of ministers compromising capable Members of Parliaments and appeasing his former political opponents. To form a unity government would mean that non-PH Members of Parliament would have to be appointed to the Cabinet. The prime minister would perhaps have to convince his coalition allies to compromise some cabinet positions although this could potentially ruffle feathers.
At the same time, he must also ensure that he is appointing candidates with the right calibre to perform instead of just focusing on satisfying the competing demands of the various political coalitions. As PH requires the support of its own coalition allies and from other coalitions, Anwar may likely have to form a big Cabinet. Alternatively, he may have to appoint some of these MPs to government-linked companies as a gesture of appreciation.
He may of course justify it as a cabinet that truly represents a unity government. But a bloated Cabinet would dent PH's popularity. It may even be interpreted as a continuation of cronyism instead of reform. Conversely, a lack of reward for his former nemesis and political allies in positions of power would cost him the support that he needs.
Narrowing the Gap of Polarization
The second challenge is narrowing the gap of polarization. The GE15 electoral results have shown the racial and religious fault lines in the country after years of intense politicization. Perikatan Nasional (the National Alliance – PN), comprising Parti Islam Se-Malaysia (Pan-Malaysian Islamic Party – PAS) and Parti Pribumi Bersatu Malaysia (Malaysian United Indigenous Party – Bersatu), won 73 seats in the election and this illustrates how the conservative political ideology that rallied around race and religion is still popular among a sizable number of Malay voters.
After being so close to forming the government, (PN) would likely harden its conservative slant to set itself apart from PH and to appeal to its voters based. Any major revision of policies that may not necessarily privileged the Malay-Muslim community can be used against PH.
PH which advocates for needs-based policies and holds more progressive political values will have the unenviable task to appease the PN supporters. While granular data is not easily available yet, there is also the need to study if such a trend is also common among younger Malay voters. If it is, the PH-led government not only faces the challenge of convincing the older generations of staunch PN supporters but also finds ways to convince the younger voters that needs-based policies and race and religion agenda are not necessarily mutually exclusive.
Furthermore, the enduring polarization and mutual suspicions between the PH and BN may impede the implementation of reforms. It is naïve to imagine that BN, a junior partner within this unity government, will obediently submit to the dominance of a PH government. Furthermore, BN, with UMNO as the dominant party, is unlikely to shift from centre-right to centre-left positions so easily. Doing so will make UMNO even less appealing to the Malay voters. Thus, PH will have some serious work to do to assure the Malay voters that their interests will be taken care of.
Managing Rising Competing Demands
Apart from managing the political elites, Anwar and his team also have to manage the growing competing demands from the public. From educationists who demand revision to the curriculum to women's rights groups who demand citizenship for children born overseas by Malaysian mothers, the PH-led government could not ignore these growing demands and it must show that it will fulfil its promises.
However, policy changes often require some form of trade-off and it is unlikely to satisfy all quarters. Criticisms to any policy changes will continue just as how it has been under the previous regime, if not worse. The challenge then is to really convince and educate the public why certain policy changes are necessary.
With the high expectation from the public, the PH government would have to make serious calculations on how much and how far they can push for reform. Bold reforms may be necessary to bring significant changes but they could further entrench existing polarization. Conversely, slow and piecemeal changes will fail to impress their supporters. Apart from that, the most dangerous alternative is making populist policy changes to satisfy the demands of the public and to gain support.
Inflation and Costs of Living
Finally, inflation and costs of living are something that the PH-led government must address urgently. Previous regimes have relied on cash handouts to support lower-income households or more popularly known as the Bottom (B40). Such a measure may be useful in the immediate term and it is popular among lower-income groups. However, it is not sustainable and may not have that much of an impact when inflation continues as it will. Rather, a more comprehensive and sustainable economic plan needs to be put in place. Economic planning in the short and long term must meet the needs not just of the B40 but also of the entire population.
Conclusion
Notwithstanding all these immediate challenges, GE15 did put a temporary halt to years of political instability. Besides, despite the existing polarization, Malaysia is indeed a shining example that democratization through election is possible even in a competitive authoritarian regime. The questions now are two-fold. Could Anwar and his team sustain this glimmer of hope? Can the new regime juggle between serving the interest of the public and dealing with the internal battles within its unity government that comprise former political opponents?