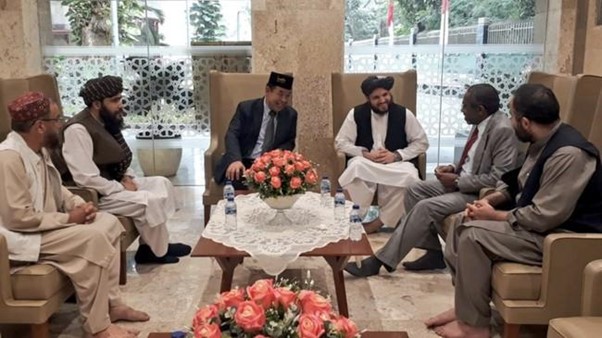 Introduction
It has been more than a month since the first-ever visit of Taliban representatives to Indonesia. Ministry of Foreign Affairs spokesman Teuku Faizasyah dubbed the visit as informal, stressing that the Taliban delegation had an internal engagement with Afghanistan's representative in Jakarta.
Though he stated that the representatives did not meet with the Indonesian government, he admitted that not everything about the visit could be disclosed. Naturally, such secrecy has sparked a degree of curiosity and interest over what really transpired, especially whether the visit marks the interest of Indonesia to recognize the Taliban government.
Teuku Faizasyah denied this, however. He stated that Jakarta is not in a position to fully recognise the Taliban at the moment, adding that there are "certain expectations" to be met. According to him, Indonesia still expects Taliban to undertake an internal reconciliation process, which includes democratization and better access to education for women.
Afghanistan's Foreign Ministry Spokesperson Hafiz Zia Ahmad confirmed about the visit via Twitter, stating that the representatives engaged with Indonesian scholars, politicians and businessmen with the aim of strengthening bilateral relations. Curiously, he mentioned that one of Taliban's top diplomats was among the visiting group, despite Jakarta's refusal to call the visit diplomatic.
He further emphasized that the representatives also met with diplomats from Sri Lanka, Bangladesh and Singapore while in Jakarta, further refracting the assumption that the group's sole aim was to engage the Indonesian government.
Curiosity remains, however. The Indonesian government has not released any statement about the visit ever since.
Recognition and Economic Interest
It should be noted that the Indonesia visit was part of the representatives' trip to Muslim-majority countries in Southeast Asia, with the other one being Malaysia. It has been argued that the Taliban might attempt to gain support from Islamic groups in these countries and turn them into Taliban lobbyists, with the hope of gaining more favor from governments in this region.
Such trip could also be construed as Taliban's attempt to attract investment and aid into Afghanistan, all while keeping the visit low-key so as not to cause embarrassment to the hosting countries.
Such trips are not exclusive to Southeast Asia. In recent months, Taliban representatives have also toured countries such as Uzbekistan and Turkmenistan – to discuss border issues – as well as Qatar, which had hosted their talks with the European Union and the United States.
Outward engagement is not the sole strategy it seems. In May this year, Qatari Prime Minister Mohammed bin Abdulrahman bin Jassim secretly met with Taliban's top leader in Afghanistan. This marks his first visit to the country under the current regime.
Qatar has also consistently played its role as a mediator, which offers Afghanistan a window to engage with foreign nations. Also in May, Qatar hosted United Nations summit to discuss the situation in Afghanistan, even as recognition by the international community remains elusive for the Taliban government.
Economic concerns could be at the forefront of these international engagements. A note by the US Department of State reveals some positive pointers in Afghanistan's economy, despite the usual media vitriol aimed at highlighting its underperformance. These include a decline in inflation rate as well as the growth of merchandise exports and imports in Afghanistan this year. These might indicate that Afghanistan's trade relations is doing better than what is usually expected from reclusive country.
Indonesia's Hesitation
Traditionally, Indonesia has been open to certain degrees of cooperation with un-recognized countries. Taiwan, for example, has established Taipei Economic and Trade Office (TETO) in Jakarta which promotes its bilateral relations with Indonesia, while the Israel-Indonesia Futures program aims to foster the cooperation between the two. Furthermore, Indonesia has actually shown interest to develop diplomatic ties with Israel.
Similarly, it is not entirely implausible for Indonesia to engage Afghanistan under the Taliban rule, with its embassy in Kabul resuming operations at the charge d'affaires level in December 2021. However, Indonesia is right to maintain certain distance so as not to tarnish its own reputation, particularly as the Taliban government continues to perform poorly on certain indicators such as protection of human rights, girls' education and democratic freedom.
However, this is only a part of Indonesia's wider hesitation at being perceived of having an engagement with Taliban, including the relatively hushed visit described above.
With the 2024 general elections fast approaching, any perceived association between the Indonesian government and Taliban could excite hardline Islamist elements in Indonesia to mobilize and assert its agenda in the upcoming political contestation.
Some "traumatic" political experience in the past few years might fuel this apprehension. Firstly, the 2019 presidential election created a much-feared national polarization, with the heavy involvement of certain Islamist elements on one side. Secondly, groups such as Islamic Defenders Front (FPI) have proven to be capable of exploiting a political momentum such as the 2017 Jakarta gubernatorial election to promote its agenda of uniting the "ummah" against infidels, which has emerged as a popular populist concept in Indonesia.
On top of that, there is a concern that Taliban's success at returning to power might inspire Islamist extremist groups to sustain their fight against the taghut and corrupt government of Indonesia. Though this has not resulted in the increase of terrorist incidents in the short-term, it is only correct for Indonesia's security sector to maintain vigilance in the long-term.
There are thus legitimate risks over any association and engagement with Taliban, perceived or otherwise, in Indonesia's currently fragile socio-political setting. This last visit was by no means the first time Taliban representatives came to Indonesia in a hushed manner. Former Vice President Jusuf Kalla once engaged Taliban representatives as part of Indonesia's effort to maintain communication with all parties involved in the Afghan conundrum.
Conclusion
Even as we continue to ponder upon the real intention of the Taliban visit, the bigger question that needs answering is whether Indonesia's position on Taliban has remained the same or evolved over time. Such suspicion could only emerge when there is a dearth of information provided by the government on the subject.
In terms of President Joko "Jokowi" Widodo's administration, certainly the question will rest on an economic calculation due to his neo-developmentalist regime model that involves media suppression and tempering down of domestic noise.
Meanwhile, Indonesia's seemingly discreet relationship with the US over Taliban coins suspicion as they constantly support the educational and humanitarian programs there in the midst of a political uproar. This leads us to a question on whether it is just a response towards international pressure or receiving an advantage from their counterpart?
Therefore, any further response by Indonesia will be noteworthy especially when we take into account its struggle to consolidate domestic division while maintaining reputation on international level.